You know, it's been a fun couple of years working on SSF2. Development has ended up getting pretty boring lately to be honest, and that's why we're mixing things up.
We've decided to rebrand SSF2 into Flash Minus. We've had so many Brawl Minus developers on our team, it seemed like a natural progression.
This is the first of a series of videos to show off what the new update of Flash Minus will bring. Happy Easter!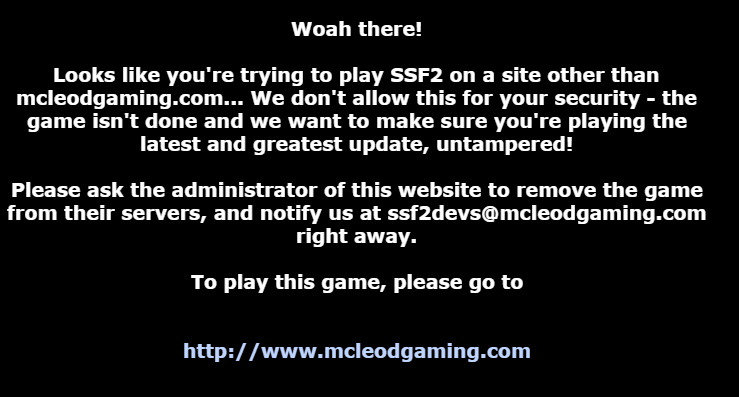 Some fans that play on external sites have noticed that a time bomb we've setup within the game has gone off, displaying a message on top of the game telling players to play on McLeodGaming only. This mechanism is in place so that sites don't profit off of Super Smash Flash 2, and so that players are always playing the newest, untampered, version of the game.
SSF2 is designed to be free, and sites that rip our protection mechanisms out of it to host it behind forced video ads (you know the ones – where you have to wait for the video to end before the game will load) and other scumbaggy/shady revenue streams put the future of the game at risk and cause slews of other problems.
These sites have managed to steal 66% of the traffic that plays SSF2 in the browser with mostly old versions of the game that do not have functional online mode and/or current balance changes/bug fixes, have ripped the legal disclaimer and the credits out, and these sites make money in the process. With the original SSF2 Beta update, we tried to be nice with a logo on startup saying to only play on McLeodGaming.com but it was just removed when uploaded to these sites. We've also found a few instances where the game had code added to it that was malicious that ran in the background. Not cool.
Bottom line, these sites cannot continue to have such high traffic. It's unsafe for us and unsafe for you. Thus, we have programmed a message to superimpose on all sites hosting the current version.

Unfortunately, this being said, with yesterday's hotfix, a pretty large issue has come up for those who play SSF2 at school, as many schools have our site blocked. We hear you!
As a fix, in the coming days (very near future – we're talkin' like within 72 hours) the downloads page will be updated with a portable version of SSF2 Beta and instructions to load it to a flash drive. This will give you guys a solution to meet halfway, allowing you to play SSF2 straight from these flash drives on school computers. We hope that those who haven't visited here before will stick around, lots of updates are on the way!
We've just released update 1.0.3 1.0.3.1 for SSF2 Beta!
Version 1.0.3.1 fixes a good number of lingering issues since the last update, including some of the changes we've debuted at Super Smash Con.
Please note that this is a minor update and does not contain any new character content or final smashes (next significant update will be labeled 1.1.0), however we did sneak in Sandbag Basketball and Crystal Smash Mode for you guys 😉
Browser players can play the latest update now on our SSF2 page.
Desktop players will receive an auto-update notification upon opening the game, or they may download the game directly from our downloads page.
Content Updates:
New Yoshi sprites
Added Sandbag Basketball to Arena mode*
Added Crystal Smash to Stadium mode
New Results Screen
*Functional in v1.0.3.1
Engine Updates:
Fixed jump startup inconsistency between attack jump cancels and normal jumps
"Improvements" to SSF1 mode to make it feel even more like SSF1
Special mode settings now carry over into sudden death
Improved behavior for acceleration, deceleration, and max speed caps
Fixed bug where getting grabbed out of attacks would reset all of your charged attacks
Tweaked character select hand for more precise movement
Fixed metal knockback behavior
Side smash input window extended by 1 frame
Optimized hitlag behavior across the board
Fixed scaling of reflections when super mushroomed
Fixed projectile clanking behavior
Visit our Changelog to get more details on all changes implemented.
Another SSF2 Beta update is out!
Version 1.0.2 fixes a number of lingering bugs and offers even better online mode stability. You should be able to play as many Online matches as you want without having to close your game between them. Browser players can play now on the SSF2 page. Desktop players can either use the built-in auto-updater, or download the game directly from the downloads page.
Major Changes
Linux Version now available!!!
More online mode stability improvements
Locked rooms are now hidden in online mode
Fixed double-jump cancelling
Fixed event match unlock messaging
Fixed reflection scaling
Other various bug fixes and balancing tweaks
Visit our Changelog to get more details on all changes implemented.
SSF2 Beta version 1.0.1 is now live! Browser players can head right on over to the SSF2 page to play. For desktop players, once you boot your game it will prompt you to update. This is a mandatory update that is required to play online mode.
Major Changes
Improved online mode stability
Improved performance on slower computers with Disabled stage effects setting
Restored stock match sudden deaths
Fixed crashes from incompatible Bluetooth devices
Fixed Role Reversal event
Cleared records for Role Reversal and final events
Tap jump / dash input settings now saved when gamepads are used (and settings are saved to tags when possible)
Desk stage is now available without unlocking
Other various bug fixes and balancing tweaks
Visit our Changelog to get more details on all changes implemented.
Older posts