Watch 15 minutes worth of intense friendlies where top Smash Bros competitor ZeRo challenges PK_Fire, who you might remember from Super Smash Con's stream!
The Guinness World Record-holding, top Smash Bros competitor tries out Super Smash Flash 2 in this new video. Check it out!
We're celebrating the two-year mango-versary of Yeah Jam Fury: U, Me, Everybody! with another hefty discount! If you still don't own a copy yet, now is an opportune time to hop onboard!
http://store.steampowered.com/app/633930/Yeah_Jam_Fury_U_Me_Everybody/
And that's not all – we've also updated the local multiplayer support for better compatibility with Steam's new feature called Remote Play Together. In case you're not familiar, Remote Play Together allows you to play local co-op games with friends over the internet. So we took the opportunity to implement a second multiplayer setting called "Pick Up" mode. Our existing "Three Player" mode required that you have three participants, since each slot was locked to a particular character. However in Pick Up mode you only need at least two players to get your multiplayer fix (you can have up to 9 total if you have 8 gamepads + 1 keyboard!)
The way Pick Up mode works in Yeah Jam Fury is that only one player has control over all three characters at a time. But an inactive can forcefully swap in a character to fully take over! This allows you to not only involve more players, but also makes those trickier levels easier to hand off to a more capable player. Additionally the first player to press an input during a level will start with control by default, so you don't have to worry about player 1 getting stuck if you're playing a single-character challenge!
So how about it? Grab a friend today and go fight for that mango to earn your crown!
The MG Store just received a refresh just in time for the holiday season! All of the products across the board have been updated with the newer MG branding, not to mention a few new products and styles have been added as well.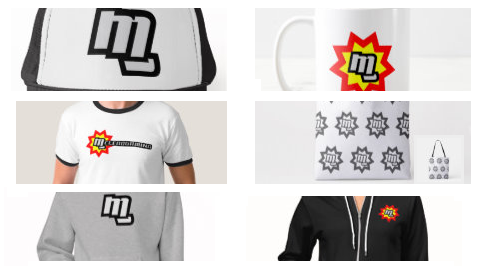 Click on the image above or follow the link below to see more!