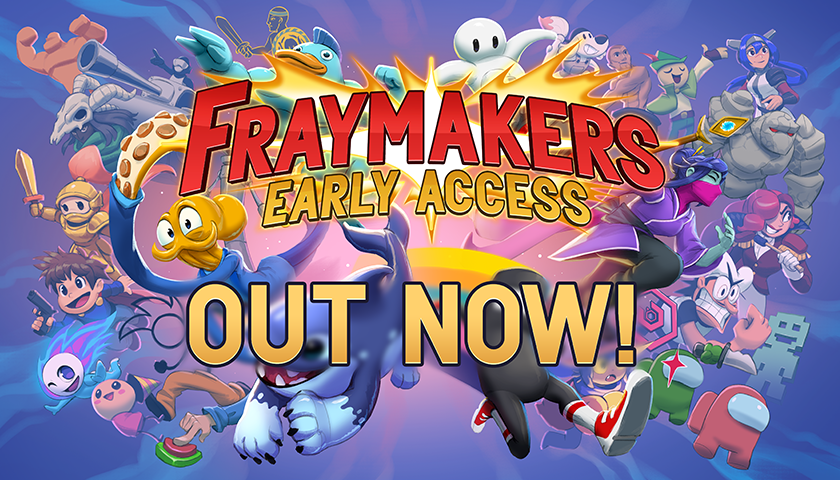 The wait is over: we're super excited to announce that Fraymakers has officially launched in Early Access on Steam! Grab your copy of the ultimate customizable platform fighter today by visiting our Steam store page: https://store.steampowered.com/app/1420350/Fraymakers/.
With the launch comes other huge news: in our launch trailer, we revealed that Crewmate/Impostor from Among Us have officially joined the launch day assist roster! Special thanks to our friends at Innersloth for helping us make this happen. Check out the EA launch trailer here:
We can't thank all of our supporters and studio partners enough for making this project possible. But it's not over yet! We'll be continuing to develop Fraymakers and adding all sorts of additional content throughout the Early Access development period, so there's plenty to look forward to. Our content creation software FrayTools will also be under active development, and is freely available even to those who don't own a copy of the game. We can't wait to see what you all create! Find out more about FrayTools here: https://fraytools.com/.
That's about all the news we have for now, please enjoy the game and expect more updates from us in the coming year and beyond. Thank you so much for your support!
– Team Fray
It's been ten whole years since Yeah Jam Fury first released on Newgrounds! To celebrate we're bringing the game to Steam for free on July 6th! Take up the reins once more fabricating, navigating, and eradicating your way to that precious mango with the lovable puzzle-platforming trio.
Be sure to wishlist the game to be notified of the launch!
https://store.steampowered.com/app/2013030/Yeah_Jam_Fury_2012/
The results of the Rivals assist poll are in! We revealed the newest member of the Fraymakers assist roster today during Rivals Direct 4, courtesy of our friends at Aether Studios. Check out their debut in the trailer below hosted on our new Fraymakers YouTube channel (and make sure to subscribe to keep up with future updates!):
Direct Link: https://www.youtube.com/watch?v=SYF0ubgQtZs
The Super Smash Flash 2 team has just released update v1.3.1!
This update reaches a huge milestone with every character now having a functional final smash and home stage. There are also a bunch of other neat changes, such as a full Sandbag resprite and the introduction of the Final Smash Meter. Head over to the SSF2 website now to check it out!
Older posts