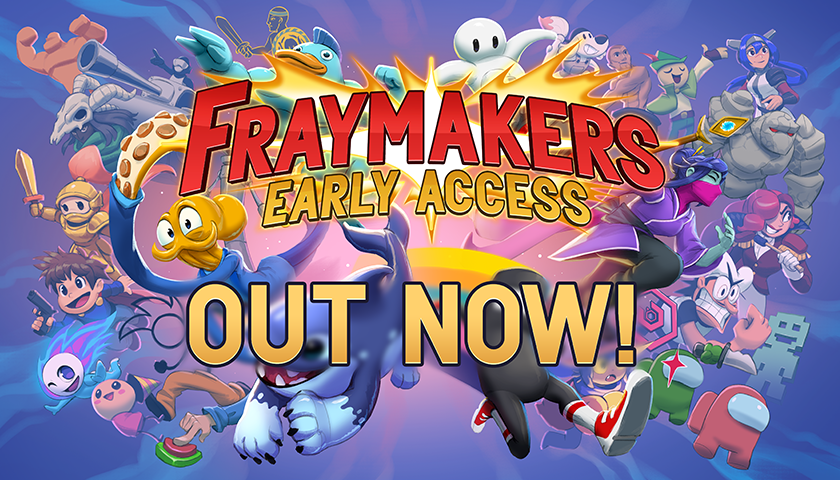 The wait is over: we're super excited to announce that Fraymakers has officially launched in Early Access on Steam! Grab your copy of the ultimate customizable platform fighter today by visiting our Steam store page: https://store.steampowered.com/app/1420350/Fraymakers/.
With the launch comes other huge news: in our launch trailer, we revealed that Crewmate/Impostor from Among Us have officially joined the launch day assist roster! Special thanks to our friends at Innersloth for helping us make this happen. Check out the EA launch trailer here:
We can't thank all of our supporters and studio partners enough for making this project possible. But it's not over yet! We'll be continuing to develop Fraymakers and adding all sorts of additional content throughout the Early Access development period, so there's plenty to look forward to. Our content creation software FrayTools will also be under active development, and is freely available even to those who don't own a copy of the game. We can't wait to see what you all create! Find out more about FrayTools here: https://fraytools.com/.
That's about all the news we have for now, please enjoy the game and expect more updates from us in the coming year and beyond. Thank you so much for your support!
– Team Fray
Hey all! Over this past weekend, Team Fray members Max and Ramsey chatted it up with Bowler to answer 15 of your questions about Fraymakers. Check out the interview in the video below!
https://www.youtube.com/watch?v=yCXXmp5wo38
Mega thanks to Bowler for having us on! ❤️
Happy new year to all!
The year 2021 has (finally) arrived, and looking back we had a busy past year with the SSF2 Rotation Release Cycle and the announcement of Fraymakers! After a year like that many of you may be wondering what's in store for this year at McLeodGaming.
The End of Flash Player
Many of you probably already know that the end of Flash Player support arrived today, with the full transition to being globally disabled arriving on January 12th, 2021. As the creators of one of the most ambitious Flash-based projects on the internet, it pains us greatly to see it go. Flash is what allowed SSF2 to blossom into the ultimate Smash tribute that you see today, and it's also what put McLeodGaming on the path to being a real independent game studio in the early 2000s. We may never see a technology exactly quite like Flash again in the future, and we think it's important to look back and appreciate how it allowed all sorts of creative individuals to express themselves, despite all of the negative press.
On the bright side, a project called Ruffle has been underway for quite some time to emulate the Flash Player in-browser without requiring a plugin. It's made great strides supporting tons of games from the ActionScript 2.0 days, including an almost fully-functional Super Smash Flash 1 (which we've enabled a toggle for on the Super Smash Flash home site, go check it out!). It may be some time before we see SSF2 supported since the game is built in ActionScript 3.0, but in the meantime you can always download the game to play on your desktop using Adobe AIR in place of the Flash Player.
(By the way, if you'd like to support such an awesome project, we encourage you to check out Ruffle's Open Collective page)
SSF2 Development
Rest assured, despite the demise of the Flash Player and the end of the Rotation Release development cycle, SSF2 isn't stopping any time soon! While the SSF2 Team is going to start off a bit slower this year, there are plenty of content plans in the pipeline. Expect more news to come as the team begins picking up the pace again.
Also please be aware that moving forward, the primary source for SSF2 news and content will be found on SuperSmashFlash.com. While we may mention SSF2 updates here on McLeodGaming from time to time, the optimal place for uninterrupted, dedicated updates can be found there (and most existing SSF2 pages here will be automatically redirected). Also make sure to follow SSF2's new Twitter account and subscribe to its new YouTube channel so you don't miss out anything!
Fraymakers Development
Team Fray is excited to continue with the development of Fraymakers after its incredible Kickstarter campaign! There are plenty of characters to be animated, stages to be designed, and music tracks to be laid down, so you can expect us to be quite busy getting ready for Early Access launch. We're already seeing some fun data come in via our Backer Content Survey (exclusive to backers only!), in addition to a lot of buzz throughout our socials about all the things everyone is looking forward to in Fraymakers. Make sure to join our socials listed over in the sidebar so you don't miss any updates!
If you were unable to support the Kickstarter and are hoping to help in some way, one great method to do that is to wishlist Fraymakers on Steam. This way you'll be notified when the game is released in Early Access and it'll help add momentum to our initial launch.
Anyway, that's all for now. Talk soon!