We can't believe it's already been a whole year since we released our challenging puzzle-platformer game Yeah Jam Fury: U, Me, Everybody! To honor the occasion you can join the quest for mango at a whopping 60% discount for a limited time!
If you haven't gotten a chance to play yet, head on over to the Steam store page and grab a copy while you can!
https://store.steampowered.com/app/633930/Yeah_Jam_Fury_U_Me_Everybody/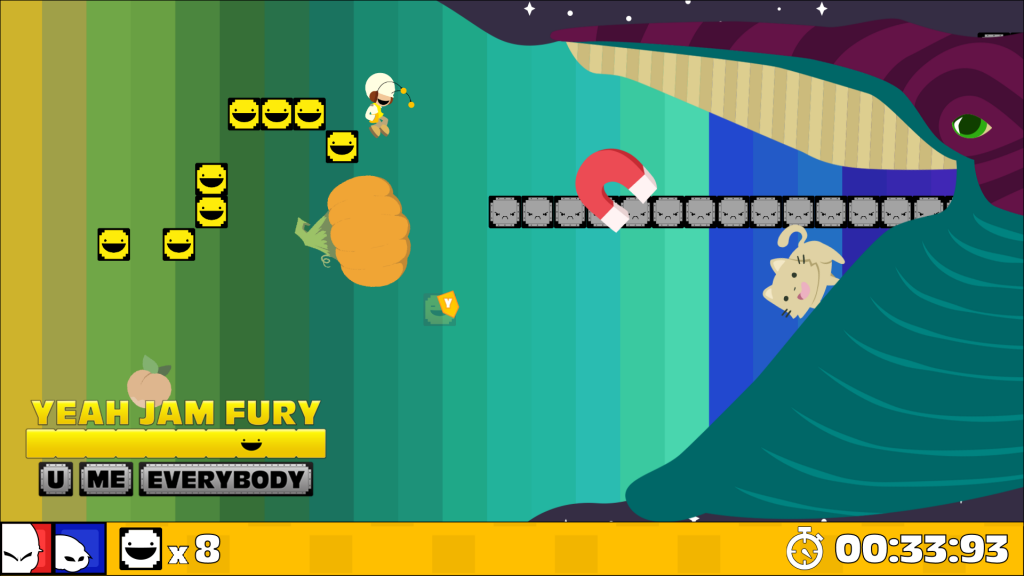 Happy mango hunting!
Hey guys! We've decided as a team to pause developer application submissions for Super Smash Flash 2 for the time being. Too many cooks makes development hard, and we want to focus on the next patch with the team at optimal capacity. If you have already submitted an application don't fret, we still have it! However, due to the large volume of applications we've received we will only respond if we want to proceed further. We will continue to process currently pending applications and follow up with you if we're interested, and you are welcome to reach out to us regarding the status of your application at any time.
Thanks all for the patience!
MGN is back and SSF2's online mode has been restored!
We expect things to work the same or better than before, but be sure to let us know if any issues arise. Just note that it may take a few hours for some of you to regain access if you are unable to connect right away.
Thanks again for your patience!
Hey all!
Just a quick heads up that there will be planned maintenance for MGN this Wednesday, September 26th. Both the MGN website and SSF2's online mode are expected to be unavailable during a time window approximately between 10am-5pm EST. Apologies for any inconvenience that this downtime may cause players.
There will be a follow up news post once the maintenance has been completed. We appreciate your patience!
Content creator Sherwood has released a new video with Bowler, showcasing some gameplay for Krystal, who will be included in the next patch!
Older posts
Newer posts