Mark your calendars – the Kickstarter campaign for our new platform fighter Fraymakers will launch TOMORROW on Wednesday, November 18th at 11am EST!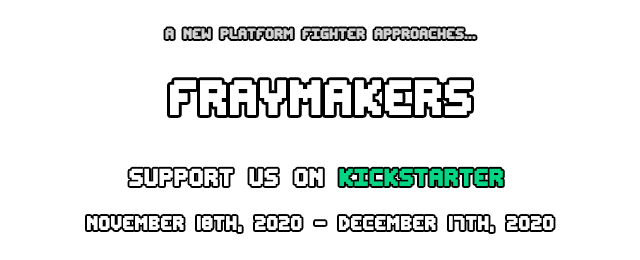 Count down with us at: fraymakers.com
Now this is where you all come in – in order to make this project a success the first 48 hours are crucial. That means if you like what you see once we're live, the best way to ensure the campaign's success is to back the project as early as possible. It's been shown that the success of a crowd-funding project is strongly correlated to how much support it receives from the get-go. That means the faster we hit our base goal, the better the outcome.
Not in a financial position where you can help fund Fraymakers? No worries! Whether you back or not, we're asking everyone to please share our campaign with as many of your friends and family as possible once it goes live. Tell your friends to tell their friends and family too! Spreading the word is just as important as backing, as it helps us reach the widest possible audience in a way that we can't do on our own.
At any rate, we hope you're as excited as we are for the unveiling of McLeodGaming's most ambitious game to date. We've been hard at work behind the scenes working on something that we believe will stand the test of time in the platform fighter genre. So fasten your seat belts, we're gonna hit the ground running!
See you soon!